Live Masterclass With Dr John Demartini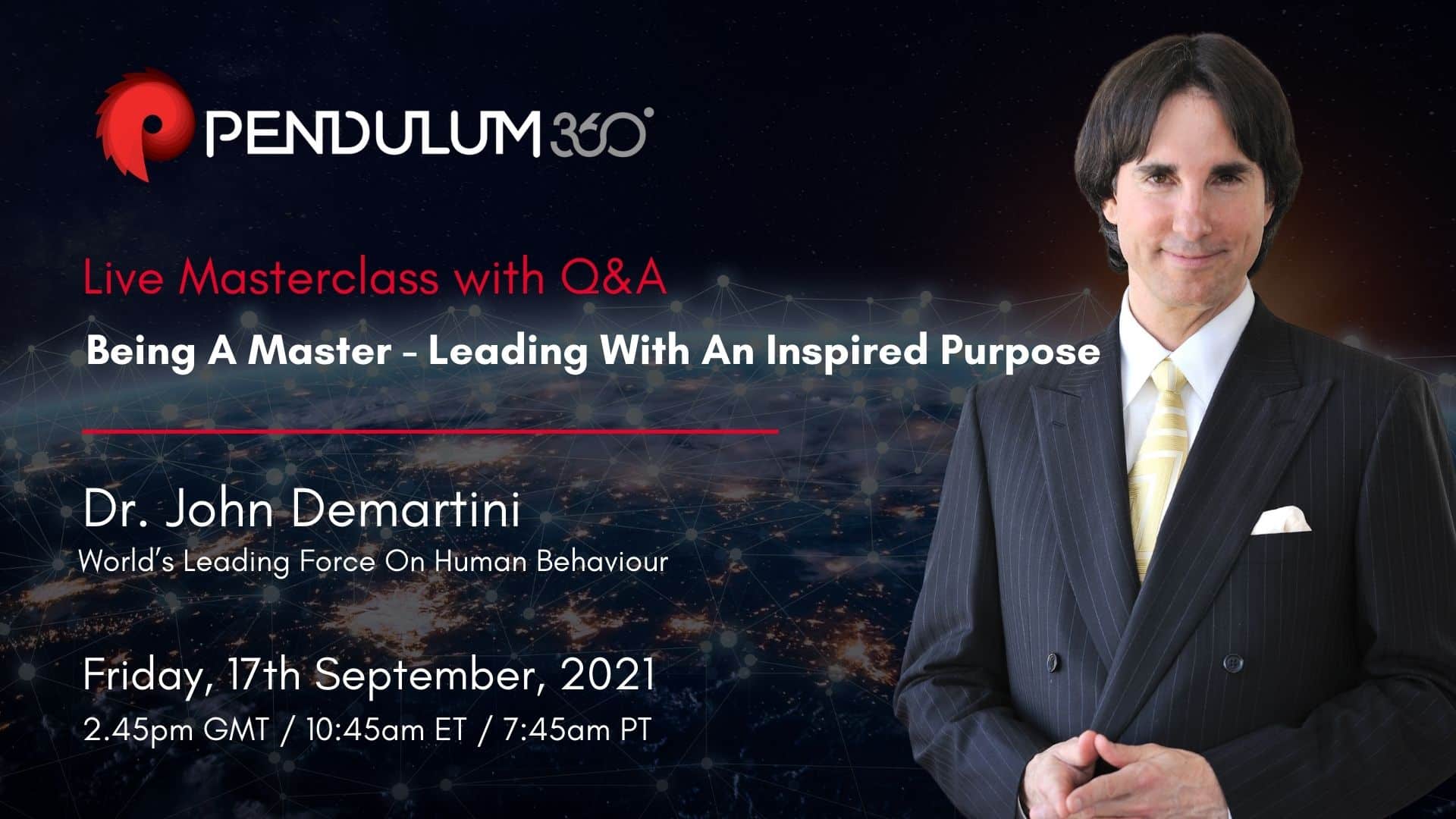 "Compare yourself not to others, but only to the vision you hold, within your heart. Dedicate your life to a cause greater than yourself and watch you get beyond yourself. The very thing that someone told you that you would never be able to do, may just be the very thing you are destined to do." Dr. John Demartini
We are delighted to announce that Dr John Demartini, the world's leading force on Human Behaviour, will be participating in a 75 minute live and interactive Pendulum 360˚ Masterclass with Q&A on September 17th where he will share the principles and methodologies of his seminal 'Being a Master – Leading with an Inspired Purpose' masterclass.
This is a fully interactive experience where you will have the opportunity to engage and network with other like-minded attendees and ask those burning life questions to Dr. Demartini himself who will be on screen right in front of you!
Date: Friday, September 17th, 2021
Format: Online (Live Masterclass followed by Audience Q&A)
Time: 2.45pm (IRE) / 9.45am (NY) / 6.45am (LA)
This masterclass is complimentary for all Pendulum 360˚ members.
Wisdom & Inspiration From Dr John Demartini:
In This Masterclass You Will:
Discover the principles and methodologies of how to become the best version of you and how to lead an inspired life.
Develop your ability to dissolve any emotion causing stress, tension or anxiety.
Get clear on your values, what's most important to you and what drives you.
Learn how to adopt positive and proactive actions to achieve your potential.
Gain a deeper understanding behind the science and philosophy human empowerment.
Reserve your place for only €97 or get 12 month access to Pendulum 360˚platform for only €495 (50% off for limited time!)
Learn More About Pendulum 360˚:
Pendulum 360˚ is a revolutionary learning, lifestyle and networking platform dedicated to fuelling peak performance, holistic wellbeing and leadership. Visit pendulum-360.com.